Laost otsas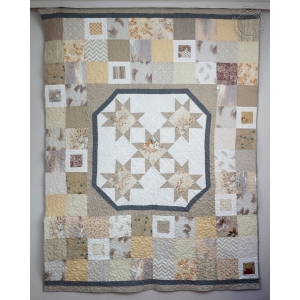 Zoom
Full Size Quilt with Octagrams (230 x 175 cm)
This calm: grey, beige and white tones patchwork quilt fits perfectly with your double size bed. This quilted bed cover is ideal for all kinds of bedrooms, from modern, romantic to classic. It is beautiful wedding or birthday gift.
An octagram, or an eight-pointed star, a light-emitting star, is widely known in Europe as a magical sign that brings luck and as a symbol of love and fertility. It was also known as the symbol of the morning star Venus – a symbol of light against darkness. As a symbol of the North Star, it shows direction – both the cardinal points as well as the intercardinal directions of northeast, southeast, southwest, and northwest.

The blanket is made using cotton and linen fabrics. The back of the quilt is 100% cotton. The blanket is quilted over a polyester batting, machine quilted and finished with machine stitched binding.

All my materials are pre-washed to prevent shrinkage and come to you clean and fresh.

Caring for the quilt: Machine wash delicate cycle at cool temperatures. Tumble dry low or hang dry. Do not iron.

Measurements: 90 x 68 in / 230 x 175 cm

Ready to ship.

All items in the shop are designed and handmade by me in my non-smoking and pet free studio.