Laost otsas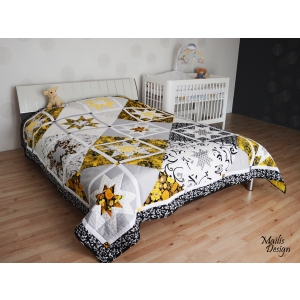 Zoom
King Size Quilt Morning OCTAGRAM (235 x 235 cm)
EXHIBITION QUILT. The quilt can be seen at the Patchwork Exhibition on November 3 - December 3, 2020 in Estonia at the Tabasalu Library during opening hours. If you purchase an item that is at the exhibition, we will post you the packages after the exhibition is taken down, meaning on the 5th of December.
King Size Patchwork Quilt Octagram (235 x 235 cm)
An octagram, or an eight-pointed star, a light-emitting star, is widely known in Europe as a magical sign that brings luck and as a symbol of love and fertility. It was also known as the symbol of the morning star Venus – a symbol of light against darkness. As a symbol of the North Star, it shows direction – both the cardinal points as well as the intercardinal directions of northeast, southeast, southwest, and northwest.
Cotton fabrics are used in the pattern. Lining is from cotton. Batting is made of thin polyester, a non-allergenic material.
This wonderful bedcover decorates your bedroom and brings a lot of colourful dreams to you and your partner. This also makes a nice gift for a wedding, for a new couple that is freshly married.
To care for your quilt, simply machine wash on a delicate setting with mild laundry detergent, then tumble dry on fluff air or lay flat to dry. The quilt will shrink slightly with its first washing, this creates the desired puckered effect. It will get softer and cozier with each washing.
My Quilts are made in smoke and pet free environment.