Personalized bag with 3D liner or Textil Painter Glitter
If you want to add a name to a bag purchased from this online store, you can order it here.
A) Textile Painter Glitter, Silver
B) Textile Painter Glitter, Golden
C) Textile Painter Glitter, Black
D) 3D liner, green
E) 3D liner, yellow
F) 3D liner, red
G) 3D liner, dark blue
PS! Do not forget to add the NAME that you want on the product into the comments field of the shopping cart.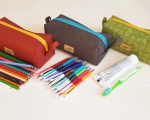 Handmade sewn pencil cases are thin and lightweight and are made of moisture resistant material.
The bag can be used as a pencil case, a cosmetic bag or a toiletry bag for trekking and in camps. This bag fits the longest stationery as well as toothbrushes and other toiletries.
Bags are made of high quality water-repellent fabric with a rubber / oil cloth layer inside. Both the bags and the zippers come in various colours.
NB! In stock you can see the quantity of selection A). Click on other options to see their quantities.
The inside and the outside of the bag can be washed with soap or washing gel under running water.
COLORS:
A) Pink
B) Dark Purple
C) Purple
D) Dark blue
E) Blue
F) Turquoise
G) Sea green
H) Sea green + yellow
I) Sea green + rust brown
J) Light green
K) Light green + yellow
L) Light green + rust brown
M) Dark green
N) Rust brown
O) Rust + Yellow
P) Beige
Q) Beige + rust
R) Brown
S) Brown + Beige
T) Brown + rust brown
U) Brown + dark red
V) Brown + Pink
W) Brown + light blue
X) Brown + dark green
Products are upcycled using industrial textile wastes. By using these products, you make a small contribution to saving the environment.
SKU:
VKK0006 ,
Qty:
41 ,
Delivery time:
3 business days
Linen cosmetic bags with archaic embroidery.
Embroideries are handmade.

Size: 17 x 8 x 5 cm.
SKU:
VKK0020 ,
Qty:
3 ,
Delivery time:
3 business days
14,00 €
You can order machine embroidered names to be added on the bags purchased from this e-shop.
Embroidery can't be added to every product, if it has already sewn.
If embroidery is not marked as an option with a product, please contact us by email in advance so that we can specify your wishes and the available options together.
SKU:
MUU0004 ,
Delivery time:
7 business days
3,00 €