Welcome!
Handicraft works, made with love and care, remain as a memory for many generations, decorating our homes and telling stories.
Uus toode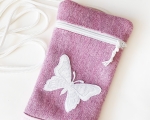 A stylish bag for your mobile phone. You don't have to squeeze it into your pocket or hold it in your hand, but it always with you – attached to your belt, handbag or jacket.
The bag is sewn from woollen felt and vegan leather, which makes it warm and durable. Closes with a zipper and has a twine for hanging.
A practical and lovely gift for your child, friend, colleague or loved one.
Bag size: 10 x 18 cm.
Suitable for mobile phones max width 9 cm, height max 16 cm (height up to zipper).
Products are upcycled using industrial textile wastes. By using these products, you make a small contribution to saving the environment.
SKU:
MOB0006 ,
Qty:
1 ,
Delivery time:
3 business days
9,60 €
Uus toode
The miniature sachet is your indispensable helper in the office, cinema, shopping centre or on the street and when travelling. Your mobile phone, money, magnetic cards and keys are safely with you whilst your hands remain FREE!
The bag with a shoulder strap can be carried on the shoulder or across the chest.
The bag has two pockets. The larger pocket is perfect for your phone and documents. The small one is great for bringing along money, keys, and magnetic cards.
Bag size: 13 x 22 cm.
Small pocket: 13 x 9 cm.
Adjustable shoulder strap length max 145 cm.
A) with a butterfly
B) without the butterfly
Material: wool felt, faux leather (vegan leather).
Please add the desired quantity to the table
and then click on "Add to cart"
SKU:
MOB0003 ,
Qty:
1 ,
Delivery time:
3 business days
14,90 €
Customer Feecback.
OOOOOOOO, lihtsalt NII ilusad tekid on, suur, suur aitäh Teile! Väga kvaliteetselt õmmeldud, maitsekad värvilahendused. Rebasepoisiga teki võtame Prantsusmaale kaasa, jääb sinna uut ilmakodanikku ootama. Teine jääb meie pisipoisi voodit kaunistama. Suur täna ka selle imeilusa võtmehoidja eest!
Õnnelik ja uhke vanaema Ivi. (Rebasega beebitekk ja hobustega päevatekk pikendatavale voodile). Estonia.
***
Tere! Olen Rännaku lasteaia muusikaõpetaja Marika. Tänan Teid väga ilusa vaiba eest! Meie saali sobib ta nagu valatult! Lastele meeldib, nad uudistavad värve ja käivad jälgi mööda ning kõik õpetajad, kes esimest korda vaipa näevad, kiidavad. Väga õnnestunud ja keskkonda arvestav näputöö! Kena kevadet ja jätkuvat inspiratsiooni soovides! Marika Moks (Lapivaip Rännak, roheline jalajälg/Estonia).
***
Dear Mailis, today I received your package. The bags are lovely and very well made. I love the colours and the material! Thank you so much for you kind support! Wish you all the best! Take care, lots of love, Christina (Phone bags/Germany).
***
Suur tänu imeilusa mummulise , täpilise ja lepatriinudega teki eest. See hakkab kaunistama lapselapse voodit. (Laste lapitekk Lepatriinud, punane-must-valge). Ülle T./Estonia
***
Küll on ilus ja armas lapitekk!! Fotolt ei saanud aru, mis tehnikas kiisu karvad on - aga see on nii äge! Aitähh, Mailis! (Laste lapitekk KASS AKNAL). Merje N./Estonia
***
Väga ilusad lapitekid! Minu magamistuba kaunistab nüüd ka üks kunstiteos! Janne T./Estonia
***
Aitäh super ilusa mobiilikoti eest! Palju ilusam, kui pildil ja väga hea kvaliteediga. Suur, suur aitäh! Soovitan soojalt! Signe S./Estonia
***
These pouches are totally perfect for keeping the kids things together when travelling! I had one for my sons cars; one for his magniformers; one for my daughters sylvanian families! Just so great - felt like I was winning as a mum when I whipped these out on the plane and in restaurants! Love them! (Clear zipper pouch, travel bag for kids). Becky R./United Kingdom
***
Fantastic product!!! Thank you so much!! My girlfriend is supper happy!! ❤️ (Clear zipper pouch). Edgars B./Finland
***
Nice contact, shipping faster, lovely bags! Thank you! (Mobile phon bags, felt & leatherette). Anke L./Germany
***
Could not be happier. The style of the two quilts is so comforting. They are hanging above our bed and we look at them every night before going to sleep. Everyone who sees them comments on how cute they are. Thank you so much for making these! (Wall hanging quilt, tapestry set 2 pc. with Lihthouses Suurupi).
Jan S./Belgium
***
Thank you for this beautiful journal cover. It's really well made and I'm very pleased it's washable too. Well packaged so it arrived perfect! (Notebook with linen covers). Louise A.-W./United Kingtom
***
Amazing!! Made with love, i will buy again! (Mini Keychain zip pouch, felt). Rina S./Switzerland
***
As described very pleased. Promptly delivered and loved the hand made gift tags a nice touch! (Baby Patchwork Quilt, The SUN, 2 pc for twins). Marian F./United Kingdom