Laost otsas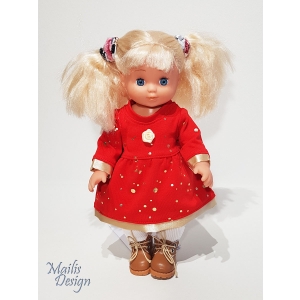 Zoom
Rescued doll with new outfit, doll 27cm/10,5"
Handmade doll clothes for doll's and rescued vintage doll, length 27 cm.
The clothes are sewn very carefully, the seams are finished. Closed and tiny details sewn by hand.
The set includes 16 products:
1. Christmas dress, red and gold decorations + white tights
2. Floral summer dress + panties
3. Knitted sweater + beret with tassel + twisted headband + long scarf
4. Pajama top and pants, mint green, with lions
5. Sweatshirt and trousers, black and pink
6. Rain jacket + rain pants with braces + pink blouse.
7. Boots
These doll clothes are suitable both to complement the doll clothes collection and for children to play with. Playing with dolls develops both creativity and empathy in children. Acting with tiny clothes and their various enclosures, children's fine motor skills develop. Fine motor skills are the cooperation of the hands and eyes, the suppleness and accuracy of the movements of the fingers. Fine motor skills are important in the development of a child's perception, attention, memory, thinking and speech, as well as reading skills.
Material: cotton tricot, wool-blend yarn, water-repellent fabric on rainwear. Faux leather boots.
Closures: buttons and snaps to give the child the opportunity to learn how to open and close them.
Care: machine wash – use delicate washing program, in separate mesh bag. Hand wash for knitted items.
The doll in this set is included as a gift. She has been bought from a recycling center, washed and tidied up and sewn new clothes.