Soodus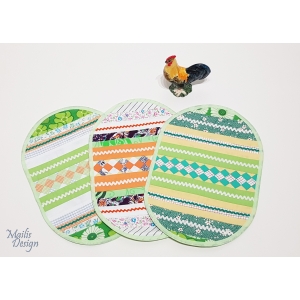 Zoom
Set of Easter tablerunners, placemats, 3 pc.
Set of Spring patchwork tablerunner, placemats Easter decoration, 3 pc.
Didn't find blue flowers or snowdrops from the field? Don't be sad! In these small and colourful tablecloths, are hidden 1001 beautiful spring colours!
Tablecloths have been sewn using pachwork technique, seminole technique, of cotton fabric. Seminole quilting originated from the Seminole patchwork used for clothing by these southeastern Native Americans. In the late 1800s it was a long trip from the Everglades to trade for cotton cloth so women began sewing strips made from the fabric left on the end of the bolts to make what was know as "strip clothing".
The pattern of the tablecloth has been quilted into the lining, finished with a cotton edge.
Size 34 x 22 cm.
To care for your quilt, simply machine wash on a delicate setting with mild laundry detergent, then tumble dry on fluff air or lay flat to dry.
My Quilts are made in smoke and pet free environment.