Laost otsas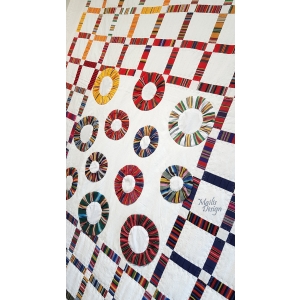 Zoom
Single Size Quilt DANCE FESTIVAL (220 x 160 cm)
The Estonian people, in addition to their striking cleverness and business sense, are also known as a singing and dancing nation. Our continued tradition of traditional singing and dancing festivals has no equivalent in the entire world. Thanks to this, folk costumes remain popular, choral singing is of high level and our folk-dance heritage is still living on.
In Estonia, choirs and folk-dance groups are available from primary school level at every school and can also be found in any village society.
My patchwork quilt was inspired from the fact that I wanted to show respect to the tradition of our song and dance festivals, folk clothes, and to all those great choir and dance directors and composers who keep it all alive and grand for the whole nation and the world!
The quilt has been sewn on a linen cloth. I used a variety of stripy cotton cloths in the pattern – almost 50 different ones in total! These represent almost 50 folk skirt stripe patterns from different Estonian communities.
Size 220 x 160 cm.