Soodus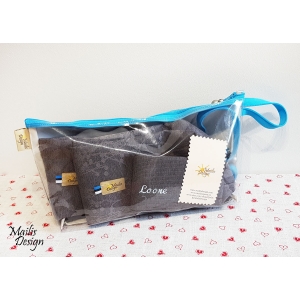 Zoom
Travel Bag Organizer Set 4pcs
Get your suitcase in order, or get your bag organised!
When going on a trip, it's important to quickly know what is where in your luggage. All the bags in this set have their unique purposes. They are truly brilliant and practical! You won't have to use the precious time through everything in your suitcase only to find the most important things lying in the bottom of the bag.
The set includes 4 bags:
* Cover bag, clear bag (33 x 15 cm, base 7 cm)
* Cosmetic bag, toiletry bag (18 x 9 cm)
* SPA bag (26 x 13 cm)
* Shoe bag (34 x 17 cm)
The bags are sewn from a high-quality, water-repellent fabric (inside is a rubber / oil cloth layer); they are lightweight and spacious. A ribbon in the Estonian flag colours has been added next to the product label.
This original, nice and practical product is a popular gift for companies' foreign visitors, especially as Estonia's 100th anniversary gift.
COLORS:
C) Purple
D) Dark blue
E) Blue
F) Turquoise
G) Sea green
H) Sea green + yellow
I) Sea green + rust brown
J) Light green
K) Light green + yellow
L) Light green + rust brown
M) Dark green
N) Rust brown
O) Rust + Yellow
P) Beige
Q) Beige + rust
R) Brown
S) Brown + Beige
T) Brown + rust brown
U) Brown + dark red
V) Brown + Pink
W) Brown + light blue
X) Brown + dark green
Personalisation, embroidering the name to the bags, textile products, purchased from my shop here: https://www.mailisepood.ee/en/a/embroidering-a-name

Products are upcycled using industrial textile wastes. By using these products, you make a small contribution to saving the environment.
Please add the desired quantity to the table
and then click on "Add to cart"