Backpacks, Drawstring bags
Handcrafted backpacks and kids drawstring bags. All our customers have loved these thanks to the originality, the beautiful, high-quality materials and the huge colour range.
Most of these products are upcycled from industrial textile wastes, which means that they are environmentally friendly. By purchasing our products, you make a small contribution to saving the environment.
Product
Laost otsas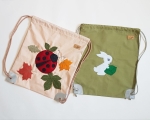 Backbag, drawstring bag for kindergarten or primary school kids, dark green with animals.
Size 36 x 30 cm.
Comfy bag for bringing a change of clothes and a cute cuddly toy. Spacious enough, easy to open and close. The bag is made of cotton fabric. Can be worn on the back and hung on a peg.
The bag is decorated with a woollen felt picture: bunny and bear.
The bag can be machine washed with a light wash program at up to 40 °C.
A) BUNNY
B) BEAR
C) LADYBUG
PLEASE ADD THE ORDER QUANTITIES TO THE TABLE:
SKU:
VKK0007 ,
Qty:
0 ,
Delivery time:
3 business days
12,00 €