Belt bags, Waist bags, Crossbody bags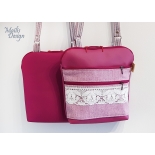 Handcrafted belt bags, waist bags, crossbody bags for kids and adults. All our customers have loved these thanks to the originality, the beautiful, high-quality materials and the huge colour range.
Most of these products are upcycled from industrial textile wastes, which means that they are environmentally friendly. By purchasing our products, you make a small contribution to saving the environment.
Product