Gifts, decorations, souvenirs
Handmade decorations, souvenirs and gifts for home and office. Linen, textile ornaments and gifts for Valentines' Day, Christmas, birthday, any anniversary. Business gifts.
Product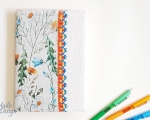 Notebook and handcrafted linen covers (A5) 21 x 15 cm.
These notebook covers have been made with love and care from natural materials, and they will cheer you up each time you use your day planner.
The covers are made of linen, have cotton lining, and are decorated with lace or ribbon.
SKU:
KAA0016 ,
Qty:
1 ,
Delivery time:
3 business days
12,00 €