Keychains, Keychain bags, coin purses
Handcrafted Keychains, Keychain bags and coin purses are upcycled from industrial textile wastes, which means that they are environmentally friendly. By purchasing our products, you make a small contribution to saving the environment.
Product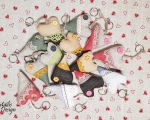 Decorative linen heart, keychain, bag pendant.
Decorated with cotton lace, linen / cotton cord and key ring for hanging.
A lovely gift for Valentine's Day.
All hearts are different. Write the desired color in the comments of the shopping cart.
SKU:
DEK0010 ,
Qty:
10 ,
Delivery time:
3 business days
4,90 €