Learning tools, Stuffed animals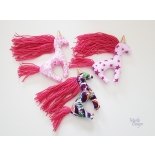 Handmade textile learning tools, toys and stuffed animals are made of high quality fabrics. We prefer natural materials, i.e. cotton, linen and woollen fabrics, cotton batting. We have also used polyester batting, which is considered a non-allergenic material. Products are sewn in a smoke and pet free environment.
Product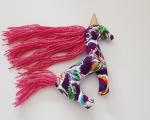 The unicorn is a magical creature. In its company the child is happy and peaceful.

Name the animal yourself, so the child can call it when he or she is sad.

A child's favourite at home, at the kindergarten, in the mall and when travelling. Fits in the child's hand and in mommy's bag or pocket.

Material: cotton fabric, woollen yarn, stuffed with bamboo batting.
SKU:
OPP0007 ,
Qty:
3 ,
Delivery time:
3 business days
8,00 €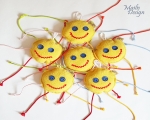 Sunkiddie is a small, warm and soft bedtime toy. A child's favourite bedtime toy. You can hang, shake, pull and yank the Cuddly Sun. Fits under the pillow and in mommy's bag. Make your child's day happy at home, at the nursery, at the mall and on the go.
Size: 15 cm.
Material: woollen fabric, filled with polyester batting.
SKU:
OPP0004 ,
Qty:
3 ,
Delivery time:
3 business days
8,00 €