Musical Instrument Bags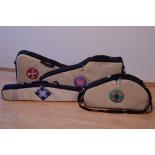 Weatherproof, beautiful, and practical bags for small instruments.
The bags are sewn from 4 layers of materials which make them a soft, warm and weatherproof nest for your precious instrument. The top is decorated with vibrant patchwork ornaments and reflective tape. The bags have a comfortable rubber-coated handle, an adjustable shoulder strap with a rubber pad, and a two-way zipper. Inside the bag is a zippered pocket for your instrument's accessories.
Product