Travel Bags, Weekender Bags, Backpacks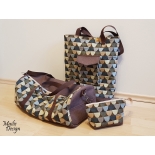 Handcrafted Travel Bags, Weekender Bags, Backpacks and bags sets. All our customers have loved these thanks to the originality, the beautiful, high-quality materials and the huge colour range.
Most of these products are upcycled from industrial textile wastes, which means that they are environmentally friendly. By purchasing our products, you make a small contribution to saving the environment.
Product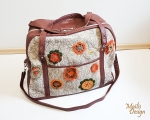 Boho and Mary Poppins style large travel or weekender bag for women.
Absolutely unique and original travel bag for women, with nice crocheted flowers, especially spacious and durable.
If you don't like to bother with necessary and unnecessary sorting but to grab something that might be needed on a weekend trip, then such a hyper-super bag is the best helper for that.
Material and manufacture: reuse of leather scrap and fabrics for the furniture industry. The bottom of the bag, the back, the handles and the pocket edge are sewn from leather for the furniture industry. Textile details for furniture textiles. Cotton lining, reuse of textile materials. There are many large and small pockets inside: with zippers and without or with a rubber edge. The bag is decorated with crocheted flowers.
Dimensions of the bag: 40 x 54 x 22 cm.
Base 26 x 52 cm.
Weight 1.42 kg.
SKU:
KOM0009 ,
Qty:
1 ,
Delivery time:
3 business days
68,00 €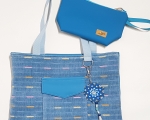 Nice, original and high quality bags for school, gym, shopping and travel.
Material: faux leather, decorative fabric, cotton lining.
The set includes two bags:
1. HANDBAG
Can be worn on the arm and on the shoulder.
The bag has 7 pockets. The outer pocket has a flap and a magnetic closure.
The bag has four open pockets and two zippered pockets. Pockets of various sizes are suitable for storing stationery, cosmetics, notebooks, mobile phones and other smaller items separately.
The bag has 2 metal rings. It is easy to attach a key ring or a mobile phone bag with a small carabiner to the ring inside the bag. You can attach a safety reflector or some other fun decoration to the ring on the outside of the bag.
The bag's dimensions: height 32 cm, width 35 cm and the width of the base 10 cm.
The handles of the bag are 64 cm.
2. MAKE-UP BAG
A small bag can hold both stationery and cosmetics.
The bag has a small pocket inside.
Dimensions of the bag: width next to the zipper 22 cm, height 13 cm, base 16 x 7 cm.
SKU:
KOM0005 ,
Qty:
1 ,
Delivery time:
3 tööpäeva
34,00 €
Soodus
Get your suitcase in order, or get your bag organised!
When going on a trip, it's important to quickly know what is where in your luggage. All the bags in this set have their unique purposes. They are truly brilliant and practical! You won't have to use the precious time through everything in your suitcase only to find the most important things lying in the bottom of the bag.
The set includes 4 bags:
* Cover bag, clear bag (33 x 15 cm, base 7 cm)
* Cosmetic bag, toiletry bag (18 x 9 cm)
* SPA bag (26 x 13 cm)
* Shoe bag (34 x 17 cm)
The bags are sewn from a high-quality, water-repellent fabric (inside is a rubber / oil cloth layer); they are lightweight and spacious. A ribbon in the Estonian flag colours has been added next to the product label.
This original, nice and practical product is a popular gift for companies' foreign visitors, especially as Estonia's 100th anniversary gift.
Colors:
A) pink
B) light purple
C) dark purple
D) blue
E) dark blue
F) light green
H) dark green
I) sea green
J) turquoise
K) beige
N) rusty brown
P) brown
Products are upcycled using industrial textile wastes. By using these products, you make a small contribution to saving the environment.
ADD QUANTITIES TO THE TABLE:
SKU:
KKM0001 ,
Qty:
2 ,
Delivery time:
3 business days