Products in stock
Product
Uus toode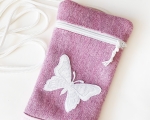 A stylish bag for your mobile phone. You don't have to squeeze it into your pocket or hold it in your hand, but it always with you – attached to your belt, handbag or jacket.
The bag is sewn from woollen felt and vegan leather, which makes it warm and durable. Closes with a zipper and has a twine for hanging.
A practical and lovely gift for your child, friend, colleague or loved one.
Bag size: 10 x 18 cm.
Suitable for mobile phones max width 9 cm, height max 16 cm (height up to zipper).
Products are upcycled using industrial textile wastes. By using these products, you make a small contribution to saving the environment.
SKU:
MOB0006 ,
Qty:
1 ,
Delivery time:
3 business days
9,60 €
Uus toode
The miniature sachet is your indispensable helper in the office, cinema, shopping centre or on the street and when travelling. Your mobile phone, money, magnetic cards and keys are safely with you whilst your hands remain FREE!
The bag with a shoulder strap can be carried on the shoulder or across the chest.
The bag has two pockets. The larger pocket is perfect for your phone and documents. The small one is great for bringing along money, keys, and magnetic cards.
Bag size: 13 x 22 cm.
Small pocket: 13 x 9 cm.
Adjustable shoulder strap length max 145 cm.
A) with a butterfly
B) without the butterfly
Material: wool felt, faux leather (vegan leather).
Please add the desired quantity to the table
and then click on "Add to cart"
SKU:
MOB0003 ,
Qty:
1 ,
Delivery time:
3 business days
14,90 €